It is not uncommon for someone to be scammed by a mobile locksmith, especially when they are in a dire situation.  Often times, there may be extra hidden fees tacked onto locksmith bills, which can add up fast and end up with you spending much more money than you should.  In fact, many mobile locksmiths who claim to be local aren't local at all: They are run by call centers which are usually out-of-state and dispatch locksmiths who are completely under-qualified.  These are only a few ways in which dishonest locksmiths operate.  It is unethical that you have to look out for scammers such as these, especially in desperate situations, such as being locked out of your car.  That's why Locksmith Geeks is providing this list of tips to help you avoid mobile locksmith scams in Fontana.  
1. Ask for an Estimate Before They Arrive
This is the easiest and most straightforward precaution you can take with a mobile locksmith.  Those that function through call-centers usually bait customers with prices that seem too low to be true… that's because they usually are.  When the locksmith then arrives, they end up claiming that the job is more complicated than they thought it would be, for some reason or another, and then start raising the price.  A quality locksmith generally costs about $60.  If someone is advertising their services for less than that, you should be extremely cautious with them.  Consider that you have someone driving out to your location to then perform a service: that calls for a bit of overhead.  Thus, it is pretty unrealistic that any mobile locksmith is only charging $20 for their services and thriving.  If, for some reason, a locksmith will not give you an estimate, then you should not pursue business transactions with them.  This gives them the freedom to fluctuate the price as much as they'd like to.  By locking down an estimate, you can greatly reduce the risk of being charged any extra or hidden fees.  However, it's not the only step that you can take to prevent yourself from being scammed.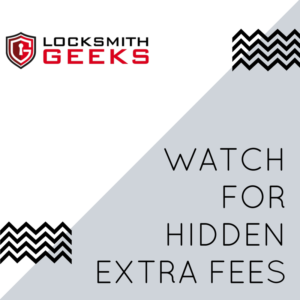 2. Check Business ID & License
When a mobile locksmith arrives, the first thing you should do is ask to see their business license.  In California, it is illegal to advertise or to work as a locksmith without a locksmithing license.  If any locksmith cannot show you their California locksmith license, you should be extremely skeptical.  Similarly, if they claim to have a license from a state which does not require a locksmith license, that is also another cause for concern.  If a locksmith arrives in either an unmarked vehicle or a vehicle which is obviously from another company, you should caution.  This is another sign that they are not legitimate and most likely, not qualified.  Lastly, a legitimate locksmith should ask to see your ID before performing any services.  This is to make sure that it is indeed your car, home, safe, etc. that they are opening for you.  If a locksmith skips this step, it may be a clear red flag that they are not trustworthy.    
3. Make Sure the Locksmith Really Is Local
As stated earlier, many locksmiths which claim to be local aren't local at all.  They are instead ran by call centers, which are often out of state, who dispatch unqualified locksmiths to various locations.  The best way to make sure that a mobile locksmith truly is local is to do a bit of online research.  Look for a street address associated with the business.  Is that address already being used by another business?  Call them and ask as many questions as you can think of to confirm their legitimacy.  Do they answer the phone with a generic phrase ("Hello, locksmith?") or refrain from announcing a company name?  Are they using a 1-800 phone number?  If the answer to any of these question is "yes," then chances are, that locksmith is not legitimate.  Any local locksmith should be able to readily provide their official company name and be easily located, just like any other business.  For example, you can see that at Locksmith Geeks, we keep our street address posted on our website here.  A bit of research in this area, even during a lockout situation, can end up saving you a lot of money.
4. Don't Let a Mobile Locksmith Drill Your Lock
Be extraordinarily cautious with locksmiths who insist on drilling your lock and replacing it.  In many situations, this is not necessary.  However, a dishonest locksmith may tell you that it is, in an attempt to get more money out of you.  They are able to charge more money for the drilling process and then overcharge you for a new replacement lock.  In this case, a lock which might cost $25 at your local hardware store might end up costing you $100.  Remember that drilling is usually only required on high-security commercial locks.  It is very rare for one of these locks to be installed on a residence or car and if they were, you would certainly know it.  Any quality locksmith should have the skills and knowledge needed to unlock any home or automobile.  If a locksmith's first suggestion is to drill the lock, you should immediately recognize that they are trying to scam you into paying extra money.  Here's a video showing a mobile locksmith scam in action..
Locksmith Geeks are the most trusted mobile locksmiths in Fontana.  We are happy to provide free estimates and welcome walk-ins at our Rancho Cucamonga location.  Feel free to contact us for any of your residential, commercial, or mobile locksmith needs.  At Locksmith Geeks, your accessibility and security are our priorities.  Visit our website or give us a call at  (909) 774-1444 today.