There's nothing worse than that sinking feeling in your chest when you realize that you've locked yourself out of your car.  Or maybe you've lost your car key and have almost driven yourself crazy by searching everywhere for it.  Whatever you backstory is, you're probably deciding to turn to an auto locksmith as a last resort, mentally exhausted and ready to finally get back inside your car.  Have no fear, everyone has been in that situation before!  However, are you aware of how easy it is for an auto locksmith to overcharge you for their services?  There are many who make their livings this way, and who, simply, cannot be trusted.  So what are you to do?  Spend hours online, comparing auto locksmiths and searching for customer reviews?  Below are 5 tips for inexpensive car key replacement in Fontana, California, provided by Locksmith Geeks.  We are the top auto locksmiths in the Fontana area, and pride ourselves on delivering honest service and advice.  Without further ado, here are some tips:  
Utilize Your Car Insurance
Did you know that your auto insurance policy can be extended to cover your car keys?  Replacing your key through your insurance coverage can possibly save you a lot of money.  In this case, you'd have to wait a bit longer than usual, as not all locksmiths work with insurance companies so easily.  However, this is a pretty much foolproof way to make sure that you don't get overcharged for a simple key replacement.  Next time you are examine your automotive insurance plan, you should check to see if it's worth it to cover key replacements.  In some cases it is, in some cases it's not.  
  2. Have Both a Mechanical & an Electronic Key
Nowadays, it seems like every new car comes with just an electronic remote key.  In fact, with the rising popularity of automatic start cars, it seems like mechanical keys may be on their way to becoming a thing of the past.  However, electronic keys aren't always dependable: Batteries don't last  forever.  Very often, someone will find themselves locked outside of their car because their electronic key needs a new battery.  This means that they need to either change it themselves (on the off chance that they already have the right battery) or hire a locksmith.  All of that time and money needs to be spent before they can even get in their car, so hopefully they're not in a rush.  Having a mechanical key can provide you with access to your car even while your electronic key is out of service.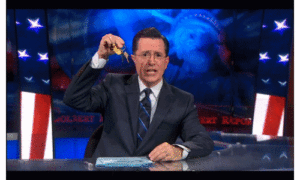 3. Get an Alarm Tracker
There are many options now for different ways of tracking your keys.  One of the most popular versions is one consisting of a device which connects to your keys and synchronizes to your phone via bluetooth.  This means that, as long as you haven't lost your phone too, you'll always be able to keep track of your keys.  There are other versions which feature a remote control audible alarm, so that you can easily find your keys if you've simply misplaced them.  Whichever version of an alarm tracker system you decide to go with, it'll be much more helpful than looking for your keys without the slightest idea of where they might be.  Here is a video detailing a few different key trackers.
  4. Keep a Duplicate of Your Car Key
Although it may seem like an obvious precaution to take, you might be surprised to find out just how many people have only one copy of their car keys.  Even if you are only given one copy when you purchase the vehicle, it is very much worth it to take that key to a hardware store or auto locksmith to have a copy made.  If you go to a trustworthy locksmith, this should hardly cost you much.  This can save you a lot of money in the future if you happen to lose your key or lock it inside of your car.  Most people choose to keep their spare key at home, so it can be easily retrieved if the time ever comes. Just don't make the mistake of carrying the two keys together at the same time!
  5. Use a Trusted Auto Locksmith
If you do need to consult a locksmith, whether it be to make a copy a key, or to get you into your vehicle in order to retrieve your original one, it is vital that you find one who you deem to be trustworthy.  Many locksmiths nowadays are dishonest and find ways to slip in extra charges.  First of all, you should be very weary of accepting charges which are tacked on after the fact.  Do some research and see which locksmiths are trusted in your area.  Compare Yelp reviews and the like.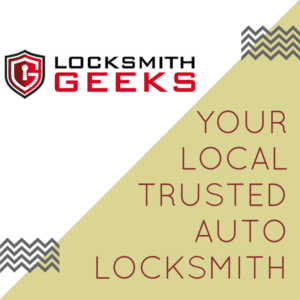 Locksmith Geeks are the most trusted and the most qualified auto locksmiths in Fontana and the greater surrounding area.  We pride ourselves on our quick response times and expert service.  No matter what your locksmith needs are, we are sure that we can exceed your expectations!  Visit our website or give us a call at (909) 774-1444 to find out about our special offers!